It's 2018, and the HTTPS Change You've Been Prepared for is Here
Many moons ago, Google indicated that any website's security would become a ranking signal for SEO. HTTPS designations became a common discussion point around agency watercoolers, and more and more webmasters began to take notice and take action.  This offered insight into the search giant's overall mindset, highlighting what is important, and what would likely come to impact all Google services in the future. SEOs the world over scrambled to secure their sites, and slowly the entire search ecosystem became more secure.
What is HTTPS?
When a user's browser sends data to a website, it does so over a "protocol". Hyper Text Transfer Protocol Secure (HTTPS) is the more secure version of HTTP. HTTPS encrypts the data being communicated to a website and used to be used more for highly sensitive transactions (online banking and purchases). With data becoming ever more sensitive of a topic, it's no surprise that Google expects all websites to implement more security.
Change is Coming
In the last few years, it has been abundantly clear that changes to SEO ranking signals were not the end of the HTTPS discussion. And so, that HTTPS change you've been waiting for is finally here: Google has officially stated that it "strongly advocates" that sites adopt HTTPS encryption, with Chrome marking ALL sites with HTTP pages (not just some, as it had been recently) as "Not Secure." That notice is not exactly what you want to see when you're about to consider doing business, buying a product from, or engaging with the site utilizing those pages. In a world that is uber-sensitive to data use (hi, GDPR!) cyber-attacks and not knowing who to trust with fake news being spread across the web, security is of paramount importance.
Right now, you might already see "Not Secure" in black when you browse a website that is not HTTPS, or you might see popup that says something like this: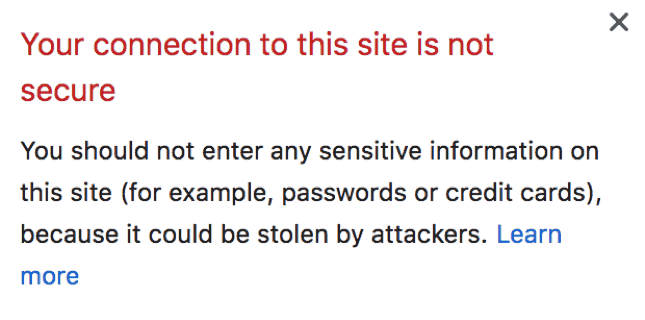 Going forward, to add to the seriousness of the warning, the "Not Secure" message will be written in bright red, instead of in black, to ensure users do not miss the message.
HTTPS in Paid Search
The emphasis on secure sites is impacting almost everything on the internet – and that includes your paid search efforts. What this means for you:
Landing pages for paid search should be HTTPS – and search ad clicks will automatically be redirected to HTTPS pages if an HTTP page is included in the ad.
Soon, Google will start warning advertisers who are still using HTTP.
Helpfully, Google is allowing advertisers to switch over to HTTPS without losing performance history through the recent launch of Ad version history.
The Impact
A page marked in red as "Not Secure" could have a serious impact on your conversions and give users a reason not to trust your business. All of this would ultimately lead to less efficacy in your paid search and overall marketing and advertising efforts, so the time to get on the HTTPS bandwagon is now!
You've heard it here, you've heard it there, you've heard it from any SEO agency:…
Every month, our SEO team looks back on the previous months to determine wins, losses,…